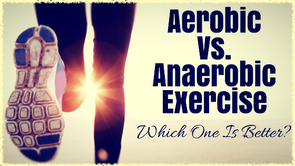 There are some approaches that may produce better results for you than others depending on your goals and body type. So if your end goal is to lose weight or rather is to gain muscles, this raises the question: what is the best exercise I can do? While there is not a simple answer, aerobic versus anaerobic exercise could help you a lot on how to approach your final goal.
The logic behind
Aerobic exercise (lower intensity training: jogging, running, cardio) increases your endurance and cardiac health while anaerobic exercise (higher intensity training: weight training, calisthenic) will help you to burn a bit less fat than with aerobic but it will also help you gain lean muscle mass. If you are trying to lose weight faster Virtual Personal Trainer recommend you to concentrate more on aerobic exercising. However if you are intending to gain muscle we recommend you to concentrate on anaerobic exercising. Most fitness trainers try to focus in only one type, aerobic or anaerobic exercises. 
Virtual Personal Trainer uniqueness however come from promoting a balance between both aerobic and anaerobic exercising.
Do you want to be part of an experimental health program?
We encourage you to test what has been discussed on this blog by yourself and let us know about your experience, your progress and achievements in the comments section below. The results of these experimental program will be presented at international conferences and hopefully published in high impact medical and scientist journals. Your involvement and interaction as well as your contribution is important for us since the information and voluntary donations you provide will be further used for adapting, modifying and improving our programs.
Important notice 
Virtual Personal Trainer approach is recommended for healthy adults only. This site is not intended for use by minors or individuals with any type of health condition. Such individuals are specifically advised to seek professional medical advice prior to initiating any fitness or nutrition effort or program.
Thanks to Virtual Personal Trainer for making such a positive change in my lifestyle
Matthew, UK
Related articles
Recommended in-house apps