Today is the beginning and first blog of Virtual Personal Trainer, your online personal trainer
Origins and motivation
Virtual Personal Trainer uses unique science concepts to set our right "preset weight". It has been first clinically tested and proved by myself (**UPDATE** Virtual Personal Trainer's methodology has been Scientifically Proven in Jan 2017; likewise, all my tools and apps have been recently validated in Dec 2017). Myself, Jose I was 47 years old when I created this approach (now on my 50s). I am originally from Spain with Masters in Biological Science, Food Technology, Nutrition, Organizational Engineering and PhD in Biology. I have more than 20 years of professional experience occupying leading positions both at private and public sectors. In the sports & fitness training world, I used to practice martial arts (Karate, Ninjutsu and Self-Defense), diving, ski, and I was a gym personal trainer at my 20s. Later on, I only practiced ski and snorkeling when I was on holiday. Because of my career, I put sports a bit apart for a few years. As of now, I am much of a world travel person. Perhaps because of my traveling experiences and relation with different cultures, one day I realised I was getting very fat and consciously unhealthy. I could not believe my weight was as much as 223 lbs (101 kgs). Too much business traveling and eating outside with no control over my food habits and spare time made me like that, I thought. But some day in July, 2012 I opened my eyes to the reality and that day was the beginning of a new resolution for me: "I never thought i will reach three ciphers. I will never be like this again", I promised myself.
The beginning of a new "me"
Since then, with no exception, I started practicing on a daily basis my new Energy Balance philosophy of living, the basics of the method Virtual Personal Trainer follows, "WHATEVER COMES IN (extra calorie intake (food and drinks), MUST COMES OUT (right nutrition and/or physical exercise). This simple idea if it is followed with serious commitment has been tested and proved effective. I managed to lose as much as 3.3-4.4 lbs (1.5-2 kgs) per week and a total of 80 lbs (35 kgs) in just a few months of practicing. And most important, WITHOUT MUCH SACRIFICE and WITHOUT THE NEED OF ANY SOPHISTICATED EQUIPMENTS OR CHEMICALS. Now I keep myself around 143 lbs (65 kgs) for almost two years and I am happy to have my six pack back. You just must change your food and exercise habits to something more healthy and fitness conscious, and follow this with rigor. Virtual Personal Trainer is effective. You will see quick positive results in a very short time and this will keep your motivation high to move on and continuously update and challenge your fitness goals. And most importantly:
"with Virtual Personal Trainer you will not only succeed in long-term Weight Loss maintenance and remain with an ideal weight and fit body forever, you will also create a healthy lifestyle, aiming to prevent heart disease, build your happiness and have personal and professional success".
Currently, I made of this philosophy a lifestyle and decided to provide Online Personal Coaching, sharing my experience and approach with the world. Many followers are trying it now with great results so far.
How about you? are you up to the challenge?
Why joining Virtual Personal Trainer?
Virtual Personal Trainer uses logical and intuitive online methods to achieve your fitness and wellness goals. I use a simple Energy Balance logic, "whatever comes IN (extra calorie intake (food and drinks)), must come OUT (physical activity/right nutrition)". This, goes together with some unique scientifically proven concepts in order to set the right weight for you and achieve your long-term Weight loss and Fitness goals. In summary, if we keep the same amount of energy IN and energy OUT over time, the weight stays the same (Energy Balance). If we have more energy IN than OUT over time, we have a weight gain. If we have more energy OUT than IN over time, we have a weight loss. To maintain a healthy weight, your energy IN and OUT do not have to balance exactly every day. It is the balance over time what helps you to maintain a healthy weight. 
At a first step, I suggest you use my Body Mass Index (BMI) and Ideal Weight calculator now so that you can have a valid measurement of your current weight in relation to your health. This is an optional first step that can give you an idea of what kind of Virtual Personal Trainer's Program better suit you (discontinued). Alternatively, you can request a free expert assessment and I will do all the job for you.
Once you join one of my free weight loss / fitness / health programs, I will ask you to use your computer and/or cell phone applications to follow the program and intuitively monitor your progress. All customized paid programs have ben discontinued.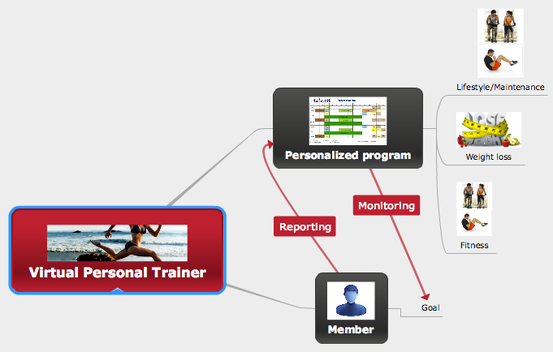 My personalized scientifically proven methods follow these steps:
Since February 2019, all customized programs (memberships) have been discontinued. Since then, Virtual Personal Trainer only support free weight loss/gain, fitness and health programs as well as personalized apps, franchising and online store.
Step 0 (Optional) -

Free expert evaluation

: Virtual Personal Trainer offer you now the possibility to get a free weight loss/gain / fitness / health assessment before you decide to join any of my online programs. Get your free online evaluation now.
Step 1 - Membership

:

 Become a Virtual Personal Trainer member.
Step 2 -

Get online

:

 Receive online information and advice on how to start and follow Virtual Personal Trainer
Step 3 - Monitoring: I will monitor your progress. I will ask you to use my online tracking system located at the member login area (only for members)  or other online tools such as websites or phone applications especially designed to track your progress.
Step 4 -

Meet your goals

: Virtual Personal Trainer's Members will continuously receive online feedback until I am are aware of your fitness goals has been reached
Step 5 (optional) - Long-term Maintenance program: Once you reached your fitness goals you will decide if you are all by yourself or you still want Virtual Personal Trainer to keep giving you advice and monitor your progress with my maintenance program.
Step 6 -

Long-term Motivation and health

: I will keep you motivated and make sure you make of my method a lifestyle (see "healthy lifestyle program" especially designed for follow up members)
Recommended articles