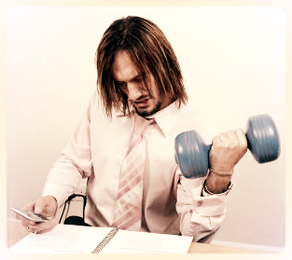 "

A man too busy to take care of his health is like a mechanic too busy to take care of his tools

"
Finding time to exercise can be difficult, especially after a long time of inactivity, but it is worth every minute you can invest in it. Not only is it great for you, but it sets a powerful example for other people including your own children. When your children see you moving, they want to move too. Here we have put together a few tips on how to fit exercise into your daily routine, no matter how busy you are.
Pick efficient and convenient work outs
Try aiming for just 10-20 minute sessions a day and do what fits best with your schedule. If going to the gym does not work for you right now, stick to a online workout or DVD. If you can not manage either, try a brisk walk around your neighborhood. Put your gym equipment where it will be used in your home, not in a rarely used and inconvenient basement. Pick a kind of work out form that you can do almost anywhere, whether you are traveling, at the office or getting home late. Ideally, this will be a form of exercise that does not require much preparation and that accomplishes significant physical gains in a short period of time. High-intensity interval training, bodyweight exercises, brisk walking and running are all great choices. My favorite work out when I am pretty busy is simply walking. I can decide what my best performance speed for burning out calories plus I can always do some work while walking such as calling people, replying emails, take notes or posting on social media ;-). Here are some other efficient work out examples
Stick to your own likes and dislikes
I am sure by now you might be thinking something like "I hate running! or I hate going to the gym!" and that's okay. We each need to be realistic and to know ourselves. One person's running is another person's yoga, weight training, or dance. Flexing your self-discipline muscles is often necessary when it comes to exercise, but make it easier on yourself by choosing a form of exercise that fits your lifestyle, personality, and your personal taste. Are you not sure what you love to do? experiment with different forms of exercise until you find what works best for you.
Motivate yourself
Find what motivates you to get moving and incorporate that. Music can be a powerful motivator. Create a playlist that you can turn on while you do workouts. Others are motivated by having a workout buddy or making a daily date with a girlfriend at the gym. If you have an older child that can be your workout buddy, it will help you build up that relationship and stay physically active at the same time. Whatever it is, find what motivates you and get your body moving. Need motivation? check Virtual Personal Trainer's "Motivate Me" channel. 
Engage on competitions
When it comes to being successful at work, collaboration is a key. On the same token, when we are trying to motivate ourselves to exercise on a regular basis, competition has its merits. It is possible to find a competition suitable to any skill level in almost any sport now a days. Whether you are part of the elite, a beginner, or somewhere in between, there is something there for all of us. Sign up, set a goal, and keep notice what it does to you. Even odds might be good, it might be the push you need to keep yourself in the game.
Do you want to be part of an experimental health program?
We encourage you to test what has been discussed on this blog by yourself and let us know about your experience, your progress and achievements in the comments section below. The results of these experimental program will be presented at international conferences and hopefully published in high impact medical and scientist journals. Your involvement and interaction as well as your contribution is important for us since the information and voluntary donations you provide will be further used for adapting, modifying and improving our programs.
Important notice
This Online Personal Trainer's approach is recommended for healthy adults only. This site is not intended for use by minors or individuals with any type of health condition. Such individuals are specifically advised to seek professional medical advice prior to initiating any fitness or nutrition effort or program.