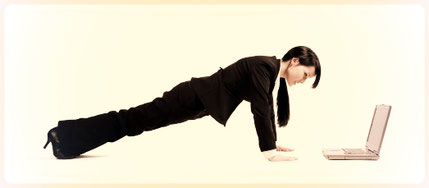 If you are one of those very busy people "this is the right article for you" ....
In part two of "" we are gonna introduce a few more tips in your trip to stay healthy while maintaining your busy schedule. You will see how both tasks are mutually complementary.
A few more tips for busy people
Traveling tips: When traveling, you can do calisthenic routines with no equipment or if you are a gym person and you have a choice try to pick a hotel that has a gym or if that is not accessible try to buy a guest pass at a local gym if your business plan is to stay away from home long time. Try to find creative ways of getting more activity while you are working like for example: take a walk from home or your hotel to your office, this will rest time to your daily workout or wear a headset and pace while on conference calls. Also standing burns twice as many calories as sitting. You can read newspaper or reply your emails on your phone while standing up. Try to deliver messages to coworkers in person instead of emails, take the stairs not the elevator, get up from your desk and stretch every hour. Try to carry on some business conversations while you are taking a walk with your coworker or by your own. You can even invite any of your coworkers to join you for a brainstorming run. Answer e-mails while peddling away on the bike. Read or dictate business proposals and briefs while you are busting it on the treadmill. You can be any creative! Although this is not totally substitute for a regular workout plan, it is better than nothing at all.
Sleep well: Sleeping the right time will not only help you to trim down your waistline but it will also enhance your overall health exponentially. Schedule in sleep hours like you would schedule important meetings and make a priority of it. Do not compromise sleep. 7-8 hours a night is the right time. You will notice that you not only feel better but you will also perform better at work.
Stay motivated: You must know already and appreciate all the power and effect of physical health and strength on both your personal and professional life. In order to make and keep your physical health a top priority try to write down all the benefits health and fitness will provide in all the aspects of your life. From boosting confidence, to increasing energy, to having a long and healthy life. Whatever your reasons, post them around your home and office and refer to them whenever you feel like skipping out on your workout.
Regular check ups: Never compromise your regular check ups. Early detection is the key to prevention of nearly every medical condition, from heart disease to cancer to bone loss. Make sure you or your assistant schedules these appointments in your very busy schedule.
---
Virtual Personal Trainer has successfully implemented fitness routines for busy professionals starting as short as 3 minutes per day [+INFO]
---