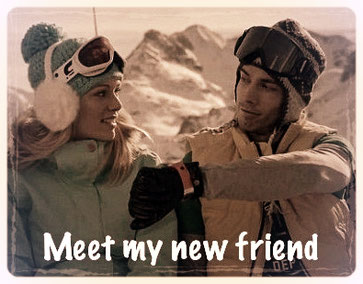 Have you ever thought of all the qualities a good friend should have?
True friendships can start instantly but they take time to build. Here are a few qualities I think we should look for when making new friends:
Fun, unique and interesting. This is probably a given, and the reason you became friends in the first place. But there is a lot to be said about chemistry and shared interest.
My new friend's qualities
Attentive and adaptable.

 A good friend is at least a fairly good listener and notices how little, day-to-day things affect you. Your friend might be able to read your mind, can even tell when you are happy, sad, excited, shocked or upset. If your friend is aware that is doing something that annoys you, your friend will try to change the way to make things easy for you.

Supportive.

Your friend may think you are cool, but is your friend on the same page as you? your friend knows what you want most out of life? A really good friend will know what makes you tick and help you become the person you want to be. Your friend will not try to change who you are or drag you into situations that make you uncomfortable or put you at risk of losing something that matters to you. Your friend will support your decisions and goals.

Trust. A true friend will not try to steal your girlfriend or boyfriend, your job or your personality. A friend will not gossip about you constantly or try to damage your reputation. A friend will let you know when feeling concerned and do the best to stick up for you when you are in trouble.
Caring. A friend may have different ways to let you know the feeling of care about you. One friend may give you a big hug whereas another friend might gently tease you, and other might send you a notice of affection. A big clue of caring is for example communicating with you fairly often and, in general, your friend will know what is going on in your life and act interested about it.
Constant. A good friend will never leave you or abandon you. A friend will be always right there for you.
Loyal. A good friend sticks with you in good and bad times. Loyalty is a quality almost everyone lists when asked what they look for in a friend. A loyal friend will stick with you whatever might happen in your life. If you move to another place, country or change jobs, your friend will always do their best to stay in touch with you.
Acceptance. In friendship, being accepting goes hand in hand with being loyal. A true friend rolls with the punches as you grow and change and know how to deal with your quirks and faults. A friend will also be patient with you when you make mistakes, even big ones, and learn how to forgive you when you hurt them. In other words, a friend will treat you as you would like to be treated, even when you are not at your best.
24/7 accessible and physically present when needed. Yeah! You do not want a friend who you can never reach. You like a friend to be always right there for you and vice-verse, right? Regardless if it is day or night time your friend ideally must be always easily to access and ready to listen to you.
Like my ex father-in-law used to say, "only time will tell if it is really a life friend or just a temporary relationship". Whatever it is I think it is still worth a try. But for now, all I can say is:
It is gonna be an interesting friendship relationship, and there are plenty of reasons to be very excited about what the future might bring
Here is my new friend, in case you feel curious about it ...
Do you want to be part of an experimental health program?
We encourage you to test by yourself what has been discussed on this article and let us know about your experience, progress and achievements either by email or in the comments section below. The results of this experimental program will be presented at international conferences and published in high impact medical / scientist journals. Your involvement and interaction as well as your contribution is important for us since the feedback, information and voluntary donations provided by our followers will be further used for adapting, modifying and improving our free weight loss program.
IMPORTANT NOTICE
Virtual Personal Trainer's approach is recommended for healthy adults only. This site is not intended for use by minors or individuals with any type of health condition. Such individuals are specifically advised to seek professional medical advice prior to initiating any fitness or nutrition effort or program.
Virtual Personal Trainer is different because it really helps you succeed
Jenny, CA
What I have seen in my body, my mind and my overall health is amazing
Montse, Spain
Thank you for making such a positive change in my life
Matthew, UK
All the motivation you need to reach your goals
Mike, USA
The best weight loss guidance I ever had
Giuseppe, Italy
The most efficient online training approach
Richard, CA
It totally transformed me into a healthier version of myself
Dani, Italy
❮
❯
Recommended articles
Recommended apps