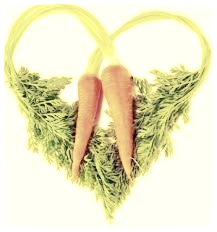 Carrots are rich in nutrients with beneficial impact on the organism, especially on the eyesight. Either raw or cooked as part of your meal carrots are the kind of food that can definitely help you to reach your health and weight loss goals.
Carrots benefits
Powerful antioxidant.

 

Carrots are one of the richest natural source

s of beta-carotene, important provitamin, which after consuming, turns into one of the most powerful antioxidants in the body, vitamin A. Vitamin A helps cells strengthen and fight against viruses, supports the fight against cancer and prevents cardiovascular diseases. 
Vitamin A also takes part in the processes of producing eye pigment, so it is generally known that carrots are good f or the eyesight. Carrots are extremely rich source of vitamin A and carotene. 100 grams of fresh carrots contain 8285micrograms beta-carotene and 16,706 international units of vitamin A. Carotenes are transformed into vitamin A in the liver. Beta-carotene is the main carotene contained in these roots. Beta-carotene is one of the powerful, natural antioxidants that protect the body from the harmful effects of free radicals. Beta-carotene consumption has been shown to have an inverse association with the development of colon cancer in the Japanese population. Among younger men, diets rich in beta-carotene may play a protective role against prostate cancer, according to a study conducted by the Harvard School of Public Health's Department of Nutrition.
Vitamin and mineral source. Besides vitamin A, this root vegetable contains a solid amount of B vitamins, such as folic acid, vitamin B6 (pyridoxine), thiamin, pantothenic acid, etc. These substances are important because they function as cofactors of enzymes in metabolic processes in the body. Fresh roots also contain a certain amount of vitamin C, i.e. provide about 9 percent of the recommended daily intake. Vitamin C is a water soluble antioxidant. Carrots also contain a healthy amount of minerals, including copper, calcium, potassium, manganese and phosphorus. Potassium is an important component of cell and body fluids and helps controlling the rhythm of the heart, by neutralising the effects of sodium. The body uses manganese as a cofactor for the antioxidant enzyme superoxide dismutase.
Prevent diseases and cancer. Its antioxidant properties help the body protect itself from diseases and cancers, collecting harmful free radicals. Studies have shown that flavonoid compounds in carrots help preventing skin, lung and oral cavity cancer. Carrots are rich in polyacetylene antioxidant falcarinol. Scientific research showed that falcarinol in carrots may help in the fight against cancer, destroying pre-cancer cells in tumours. One study found that current smokers who did not consume carrots had three times the risk of developing lung cancer compared with those who ate carrots more than once a week.
Coagulation properties. Carrots are also enriched on vitamin K, which has influence on blood coagulation and wound healing.
Fiber source. Its high content on fiber help digestion, and also prevent colon cancer. Fiber and chromium, contained in this healthy root vegetable play important role in stabilization of glycemia. This combination is particularly necessary when it comes to dealing with hunger attacks and diabetes control.
Leukemia. Carrot juice extract was shown to kill leukemia cells and inhibit their progression in a 2011 study.
Other possible benefits. The antioxidants and phytochemicals in carrots may also help with blood sugar regulation, delay the effects of aging, and improve immune function. It also helps the body to maintain the health of the connective tissue, teeth and gums.

LOW CALORIE CONTENT - "GREAT WEIGHT LOSS PARTNER".

Sweet and juicy, carrots are extremely healthy because as we mentioned before they are enriched in antioxidants, vitamins and fiber, and most important 100 grams contain only contains ~ 41calories, negligible amounts of fat and no cholesterol. This makes of carrots the perfect companion on weight loss plans and healthy lifestyles.
You could also try to substitute or alternate carrots with any other vegetables, such as tomato or lettuce, or even fruits and you will probably get very similar properties and results to the ones describe here. 
Do you want to be part of an experimental health program? Tell us your experience with carrots (or other veggies or fruits) for a healthy lifestyle or helping your weight loss plan
We encourage you to test what has been discussed on this blog by yourself and let us know about your experience, your progress and achievements in the comments section below. The results of these experimental program will be presented at international conferences and hopefully published in high impact medical and scientist journals. Your involvement and interaction as well as your contribution is important for us since the information and voluntary donations you provide will be further used for adapting, modifying and improving our programs.
Important notice 
Virtual Personal Trainer approach is recommended for healthy adults only. This site is not intended for use by minors or individuals with any type of health condition. Such individuals are specifically advised to seek professional medical advice prior to initiating any fitness or nutrition effort or program.