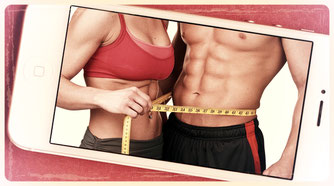 If you are one of those people who like to do all by yourself, in this article you can find a short list of the "must have" weight loss and stay-healthy apps you can download to get in shape and lose weight with no help except the app and yourself. This is the way you can turn your smart phone into a personal trainer and dietician all for free.
Whether you are looking for weight loss, have a healthy life or to keep your New Year's resolution or simply to help you do better with your current goals to lose weight or stay healthy, these apps will definitely help you get there and also to stay there. 
This short list will focus on four fundamental areas: measuring your health status, food and activity logging, distance tracking and weight tracking. Studies show that logging your food doubles your chance to weight loss and keep you healthy, so in this article we are sharing several apps to help you do that as well as motivate you and track your overall progress.
Whether as a new year resolution or just to get in better shape, these are the must apps you need on your smart phone. Most of these apps are free to use though some offer a professional version for a price, but you can get started without spending any money to achieve your goals.
Health status
One click to health app

This is Virtual Personal Trainer new released app. You can use this app to determine your ideal and safest body weight. One click to health app can help you determine if you should be considering a meal or fitness plan, the first step at any weight management program. Your BMI, Ideal Weight and SAFE ZONE measures will give you an idea of your current health status so that you can use this information as starting point for designing your weight loss / fitness plan + INFO
Tracking food and workouts
Fitbit app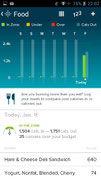 We encourage you to use Fitbit  as a wonderful tracking method in order to follow your process of getting your goals done. You can find an internet computer version fitbit.com and/or cell phone version (either for android phones, tablets or iphone). With this app users can easily load their food and workouts on the fly and automatically calculate your daily needs both meals and workouts  in order to be healthy and fit. Alternatively you can use the internet version over your computer whenever you are online + INFO
Distance tracking
iStep app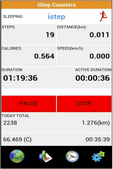 Having control of your walking distances is a great start to start monitoring your daily activities. We recommend you use a pedometer or step counter phone application for calculating your daily distances. A pedometer is a great alternative to using GPS on your phone, it will help you to save battery. Either if you walk to your office or take a walk during your spare time as a daily routine, a pedometer can definitely give you an estimate of the distances you usually walk and the kcal you burn. This is a great way to start monitoring your daily habits + INFO
Weight tracking
Libra app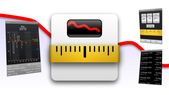 Libra is a fast, free weight-tracking app that charts a user's daily weight. It provides statistics, time-to-goal estimates, BMI, and the option to sync data. The UI is very clean, which makes a huge difference when dealing with charted figures. Along with the in-app interface, it also has a widget that gives quick access to your latest numbers. Our apps include some sort of weight charts but are not as complete and portable as this one + INFO
Do you want to be part of an experimental health program?
We encourage you to test what has been discussed on this blog by yourself and let us know about your experience, your progress and achievements in the comments section below. The results of these experimental program will be presented at international conferences and hopefully published in high impact medical and scientist journals. Your involvement and interaction as well as your contribution is important for us since the information and voluntary donations you provide will be further used for adapting, modifying and improving our programs.
Important notice
Virtual Personal Trainer approach is recommended for healthy adults only. This site is not intended for use by minors or individuals with any type of health condition. Such individuals are specifically advised to seek professional medical advice prior to initiating any fitness or nutrition effort or program.