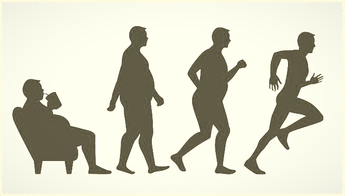 It would be normal if you have gained some extra weight due to coronavirus crisis. Many governments have made obligatory to remain home to avoid infection. We all, in general, have been eating any kinds of foods and perhaps much more than we usually do. In addition, we have been forced to remain inactive thus seriously compromising our health condition. But now that most countries are going back to normal, with only a few adjustments post-coronavirus, it is possible to lose that extra weight we got during this unusual episode. Here are some useful tips to take you back to a "healthy mind set" before it is too late! 
Healthy meals choice
A long period of inactivity typically means extra calories in your body, so better starting by making sure your mindset is ready to eat healthy meals:
Include high quality carbs

like brown rice, 

veggies

, and

healthy fats

in every meal. Vegetables has been shown to protect against obesity. We also need good fats in our diet (healthy monounsaturated and polyunsaturated fats from avocados, nuts or olive oil) in order to provide energy and absorb the fat-soluble vitamins A, D, E, and K, plus also helps us to feel full. Eat

fruits, w

hile low in calories, a variety of colourful fruits, same as veggies, can help to boost our immune system.

Proteins

(fish, turkey, roasted chicken, etc.) and 

high-fiber foods

like veggies, grains and legumes can also help to keep us full longer. Interestingly, combining healthy fats with high-fiber foods, like dipping veggies in guacamole, has been shown to increase the feeling of stomach fullness. But, generally speaking, any healthy meal choice will help you to feel full longer.

Do not to skip meals

 to avoid over-eating later. Skipping the breakfast or lunch to "save your appetite" is probably not the best

 

idea

. Better stick to a reasonably 3-5 meals a day (distributing calories intake accordingly) 

full

 

of healthy ingredients.

If you usually take-out, cut back on calories by bringing a healthy meal instead. 

Cooking your own meals

 during any break (or 

weekends) can help you eat more sane while, at the same time, save you time. Cook extra when possible so that you always have leftovers meals to freeze and reheat later.
Reduce refined carbohydrates

 like sugar and white bread to balance the good-bacteria in your gut. High-quality probiotics, such a bacteria-enriched yogurt, restore the levels of beneficial bacteria. Added sugar increase the risk for cardiovascular disease and obesity, so better opt for natural sources of sugar (fruits, veggies, and whole grains) or just try a small piece of the sweets you are truly craving for, rather than a whole cake or tablet.

Eat slowly

. The faster we eat, the less time the body has to register fullness. Eating slowly increases the postprandial response of the anorexigenic gut hormones, peptide YY and glucagon-like peptide-1. So better slow down and enjoy every bite.
Coffee-like drinks might contain as many calories as a meal if you pick the wrong ones. Choose

artificially sweetened (sugar-free) coffee or herbal tea

 instead. These will keep you hydrated while giving you health benefits such as antioxidants, and may even help you to lose weight due to the lipolytic power of caffeine.

No desserts

. Try any fruit instead, or a small piece of very dark chocolate (80-90% cacao) or much better a hot coffee or tea (read below). After you cut out on sweets, you may have no more cravings.

No alcohol

. It is not only high in calories but also toxic for your body. Better keep your body out of toxins by 

drinking tons of 

water

. Water make you full and hydrated for proper brain and body function, and, also truly help you to lose weight as it is the healthiest and most needed calorie-free drink ever invented.
Changing your eating habits to managing macronutrient proportions properly can also help you to lose weight and reaching and maintaining your ideal weight.
Recommended in-house apps