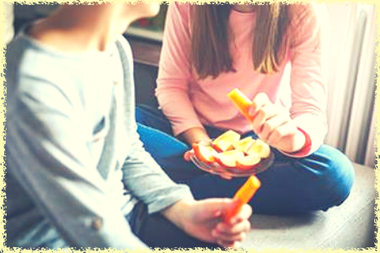 Weight loss can benefit people of all age ranges. Losing the excess of body fat can not only improve general health but also boost self-esteem and confidence. However, for teenagers, it is important that weight loss is done by making healthy long-term lifestyle changes while continuing with the normal growth process. Here are a bunch of healthy weight loss tips for teenagers.
General tips
It is important for teenagers to

think of general health

rather 

than simply weight loss for physical appearance.
Liquids
Teens should stay well hydrated

, especially if playing any sports (6-8 cups). If playing any sports, teens should add up 1-2 cups every 20-30 mins.

Teenagers should change sugar-drinks for water or at least not sugar-enriched liquids such as natural juices, light soy milk. 
Because teenagers are in the middle of the growing process, they need certain nutrients such as phosphorus and calcium. These two growing ingredients can be obtained by having 1-2 cups of whole milk a day.
Healthy eating
Teens should eat vegetables as they are packed with important nutrients like vitamins, minerals, and fiber while promoting a healthy body weight.
Teens should eat enough fiber and proteins. Fiber can be found in vegetables, whole grains, and fruits, and proteins in sources like eggs, chicken, beans, and nuts. These important nutrients can also help to feel full between meals and prevent overeating.

 

Teens should cut back on processed foods such as fast food and chips. They are highly caloric and addictive and not helping to keep a healthy mindset. 
For teenagers, cutting back on sugar-enriched foods such as candy, sugary baked goods, cookies, sugary cereals, and other sweetened processed foods is essential. If feeling hungry between meals, a good strategy is 

substituting those sugar-enriched foods for 1 piece of any favourite fruits.
Exercise
Provided that there is no medical condition that limits a regular activity, teenagers should add up any physical activity to their daily routines. The simplest way is to substitute or complement

 any 

routine, such as school, group, or extra scholar activity, with playing in the park or walking with friend/s or pet, for example.
Sleeping time
Teenagers should get enough sleep (9-10 hours per day) as this is essential for maintaining a healthy body weight.
Do you want to be part of an experimental health program?
We encourage you to test what has been discussed on this blog by yourself and let us know about your experience, your progress and achievements in the comments section below. The results of these experimental program will be presented at international conferences and hopefully published in high impact medical and scientist journals. Your involvement and interaction as well as your contribution is important for us since the information and voluntary donations you provide will be further used for adapting, modifying and improving our programs.
Important notice
This Online Personal Trainer's approach is recommended for healthy adults only. This site is not intended for use by minors or individuals with any type of health condition. Such individuals are specifically advised to seek professional medical advice prior to initiating any fitness or nutrition effort or program.