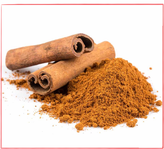 We love cinnamon. It combines very well with any ingredient and in any dish. It is an ancient spice with a beautiful and special color, an aroma difficult to forget and a soft and delicate texture. It has been used mostly for culinary purposes because of the various benefits it brings along, as well as for the particular and unique trace it leaves.
Cinnamon and health
Among the various benefits we would love to talk about some of the main ones:
Promotes weight loss and helps against diabetes. Cinnamon improves the body's insulin status, thus helping in weight loss and in maintaining a healthy and adequate body weight. Cinnamon has the power to reduce sugar, minimizing the effect and taste of the sugar present in a particular dish or meal. With its naturalness and essence, it promotes the feeling of satiety and well-being, avoiding any craving for sweets. What's more, it can be a great substitute for sugar without adding calories, adding a slightly sweet and tender touch to any dish.
Improves digestion and reduces any discomfort or heartburn. It helps in better digestion, avoiding the build-up of gases or an upset stomach. By improving the rhythm and state of the intestine, it promotes a body with a healthy weight, a healthy intestinal flora and a peaceful feeling. An infusion of cinnamon is the perfect ally for pleasant digestion.
Relaxes and provides a feeling of freshness. The smell, appearance, and texture of cinnamon play an important role in helping you relax. Cinnamon tea or added to a glass of milk offers a very nice sensation, relaxing the body and mind. A great solution to combat stress. It also helps to calm you down to have a simple and eternal sleep.
Relieves muscle pain and or any inflammation. Cinnamon reduces the stress caused by the exterior of our body. In this way, the body relaxes, fighting any inflammation or present discomfort. A cup of boiled water with a touch of cinnamon is ideal. In addition, there are also various creams that contain cinnamon for any joint or muscle pain.
An effective remedy for the flu, weakness or a feeling of cold in the body. Cinnamon helps in having and maintaining effective circulation and breathing, fighting any sensation of cold, flu or weakness. It also helps the body to warm up, raising body temperature. That is why it is great to have it during winter season specially. A cinnamon tea with honey and lemon is magical.
Makes food more palatable. Cinnamon distributes its beauty in any dish, making food more palatable, especially for children. It also helps create less sweet desserts with a natural flavor and attractive to the eyes.
Full of nutrition. Cinnamon stands out for its multiple vitamins and minerals that do good to the human body, adding a PLUS in one's life. A little touch of cinnamon works miracles and brings happiness to our body.
Anti-aging effect: There are many creams, soaps and masks for the body, hair and face with cinnamon. Cinnamon not only has an effect on our interior but also contributes well to our exterior, leaving our skin and our physical appearance firmer, younger and more relaxed. Cinnamon is the beauty secret of many, improving the appearance of the skin and adding a touch of light, life and color to one. It can also be a great resource for people who suffer from acne, leaving the skin smoother and more stable.
Ways to enjoy cinnamon
You can't get bored with cinnamon because there are many ways to enjoy it:
With oats
In yogurt
With a fruit salad
On the sweet potato
In a glass of water, milk, coffee, or tea, especially green tea
In desserts
On toast or pancakes
With popcorn
In soups or exotic foods
Fear not and experiment with this delight offered by nature.