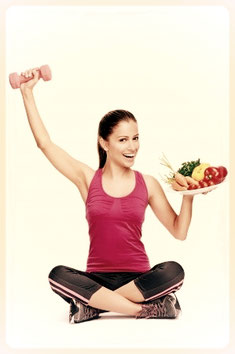 This blog is meant to be a continuation of our former blog "the right fitness-diet balance" but looking at the topic from a different perspective... read more
"I'm prouder of my weight loss than my Oscar!" - Jennifer Hudson
When talking about food, the term "calorie" is a unit of energy that the food supplies to your body. When talking about physical activity, "calorie" is a measure of the energy that your body uses in performing the activity. Calorie balance is like a scale. To remain in balance and maintain your body weight, the calories you get from foods must be balanced by the calories you use for normal body functions and physical activities. In other words, If we eat more calories than we use, we gain weight. If we burn up more calories than we eat, we lose weight.
To find out if we have a healthy weight for our height we adopted the "Body Mass Index (BMI)". Below are the BMI categories for adults:
Underweight = less than 18.5
Normal weight = 18.5-24.9
Overweight = 25-29.9
Obese = BMI of 30 or greater
Losing weight
If your BMI is in the overweight or obese category, it is probably the right time to take more seriously Virtual Personal Trainer or talk with a doctor or a registered dietitian about the best way for you to reach a healthy weight. In general, what you need to do is to stick with a meal plan and eat a variety of healthy foods so that you get all the nutrients your body needs.
You should aim to:
Eat more fruits, vegetables, and whole grains

Cut back on meats high in fat (like burgers and hot dogs), greasy fried foods, and sweets

Drink more water instead of sugary drinks like sodas high in sugar

Reduce your overall caloric intake

Track your results over time
Follow our tips on how much of each type of food to eat and how much physical activity you should get in order to reach a healthy BMI. Avoid diets that make you eat large or small amounts of a certain nutrient, such as no-carb diets or high-protein diets. Although you may lose weight, you will probably gain it back as soon as you start eating normally again. Furthermore, you may not be getting all the vitamins, minerals, and other nutrients your body needs. Balancing the right meals with basic daily activities will certainly grant you the healthy weight and life style you want to achieve.
For people who are severely obese (BMI greater than 40) and cannot seem to lose weight by changing their eating and physical activity patterns, weight loss surgery may be an option (please consult your doctor). The most common type of weight loss surgery limits the amount of food that your stomach can hold. As a result, you can only eat a small amount of food at one time. Many people who have the surgery lose weight quickly. But you still need to adopt healthy eating and physical activity habits in order to keep the weight off. Also, like all surgeries, weight loss surgery has risks and may involve complications.
Do you want to be part of an experimental health program?
We encourage you to test what has been discussed on this blog by yourself and let us know about your experience, your progress and achievements in the comments section below. The results of these experimental program will be presented at international conferences and hopefully published in high impact medical and scientist journals. Your involvement and interaction as well as your contribution is important for us since the information and voluntary donations you provide will be further used for adapting, modifying and improving our programs.
Important notice 
Virtual Personal Trainer approach is recommended for healthy adults only. This site is not intended for use by minors or individuals with any type of health condition. Such individuals are specifically advised to seek professional medical advice prior to initiating any fitness or nutrition effort or program.
Related topics